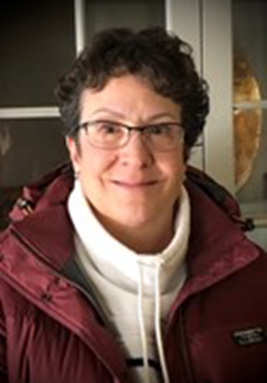 Vestry Member
When my husband, Randy, and I moved to Virginia in 1992 we had no home church. Randy was raised in a devout Catholic home and I was raised Lutheran, so we were basically on rival teams, and didn't k now how to make it work. We did not want to attend separate churches, so we stopped attending church as we pursued our respective careers.   I hadn't realized how much I had missed going to church until Randy and I were invited by friends to go to St Andrew's Episcopal church in Oregon Hill. It immediately clicked for us and was the compromise we needed to find a church we could attend together. We got confirmed as Episcopalians & were members at St Andrew's for 16 years. I sang in the church choir and was on the Altar Guild throughout our time there.
We moved to Doswell in 2005, and continued to travel downtown to Richmond to attend St Andrews. That is where we met Rock and Stephanie Higgins; the children were just wee ones then! The 30 min drive each way to church, however, was becoming prohibitive and limited our involvement. We had 2 teenage sons by this time (Ben & Jack) and we really wanted to attend a church that was family oriented and in our own community. We visited St James one Sunday and everyone was so welcoming. We heard about the active youth group, had a wonderful conversation with the Supply Priest at that time, Claudia, and even got invited to the picnic after church. We were sold! We transferred our membership to St James in 2016 and we knew we had finally found our church home. We knew it was meant to be when the Rev. Rock Higgins became our Priest-in-Charge, then Priest.
Over the past 26 years, my life has been dedicated to my career in medicine, and to raising my two sons, with little time for anything else. Thus my involvement at St Andrew's and St. James has been somewhat limited. I have been in the church choir for 6 years, which has been a great joy, and I recently joined the Altar Guild, hoping to become more involved. When asked to become a member of the Vestry, however, I must say I had to do a lot thinking and praying. I've never been on a Vestry before, I'm still working 50+ hours a week, and I'm certainly not getting any younger.  Then I thought about how very blessed my life has been and how much the church has done for me, both emotionally and spiritually. Through God's grace I have a wonderful family, a fulfilling career, and I've survived breast cancer not once but twice! I just kept thinking how it is time for me to give back and serve my church, to the glory of God. It's time to give my spiritual side the attention it needs. What better way than to be a member of the Vestry.
I promise to put forth my best effort on your behalf and I look forward to learning from and working with so many wonderful, experienced members already on the Vestry.  Thank you for this opportunity!